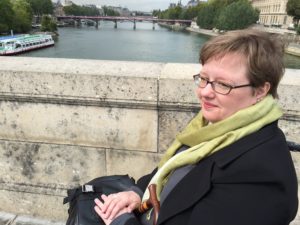 Jennie Spotila fell ill with a sudden flu-like illness in 1994, a year after graduating cum laude from the University of Pennsylvania Law School, and has never recovered.
Disabled and mostly housebound, she has become a prominent advocate for people with Myalgic Encephalomyelitis/Chronic Fatigue Syndrome ME/CFS), serving on the Board of Directors of The CFIDS Association of America (now the Solve ME Initiative) from 2006 to 2011, and Chairman in 2008 and 2009, and testifying before the CFS Advisory Committee for the Department of Health and Human Services on multiple occasions.
In 2012 she began her popular blog Occupy ME about the politics, research, medicine and personal experience of life with the disease. A trusted and leading voice in her patient community, she has been interviewed by a variety of media, including NPR and Pantsuit Politics. Her writing about ME/CFS has also been published online by the Philadelphia Inquirer, STAT and Psychology Today. She is currently writing a memoir about marriage and sudden disability.
Email: jspotila@yahoo.com